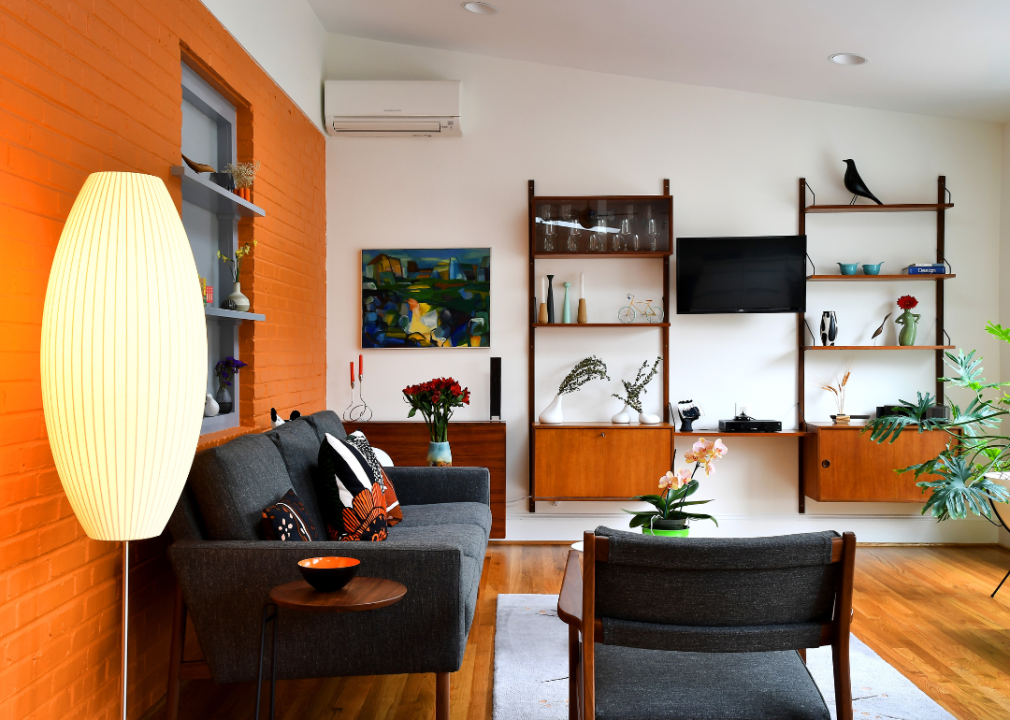 Katherine Frey/The Washington Post via Getty Images
Decade after decade, midcentury modern design continues to appeal. The New York Times noted a resurgence of the style in 1998. Nearly two decades later, there came another wave. Fast Company deemed it the "pumpkin spice latte of interior design." It's a style "Mad Men" popularized in the current century; its designers—Ludwig Mies van der Rohe, Charles and Ray Eames, Arne Jacobsen, and more—are named in reverent whispers among design circles.
Even casual design fans have likely heard the phrase "midcentury modern design" before. It is an influential design movement that became popular in the United States in the mid-20th century. Heavily influenced by German Bauhaus design, the midcentury modern aesthetic favors clean, simple craftsmanship using a blend of natural and human-made materials.
Although the style's heyday is roughly placed from 1933 to 1965, it truly took off post-World War II, an era soaked in optimism, first with the Allied victory and then eventually as the U.S. set its sights on space. Because of the war, the U.S. became a production powerhouse, and output from mining, construction, and manufacturing doubled between 1939 and 1944. As soldiers returned home to rebuild their lives, the need for housing and furnishing increased, fueling designers (many of whom were émigré) to turn to the latest technologies developed during the war and to the global influences for inspiration.
Interestingly, midcentury modern wasn't born until 1984, when author Cara Greenberg coined it for her book "Mid-century Modern: Furniture of the 1950s." Since then, midcentury modern has become not just a style, argues Fast Company, but a "byword for 'design' itself," or perhaps just taste.
So, which furniture pieces are essential to the era? Singulart used historical information and context from museums, experienced furniture resellers, and designers to compile a list of 10 pieces that embody this enduring design style. From Barcelona armchairs to Arco floor lamps, here's the midcentury modern furniture you should know.
Ludwig Mies van der Rohe's Barcelona chairs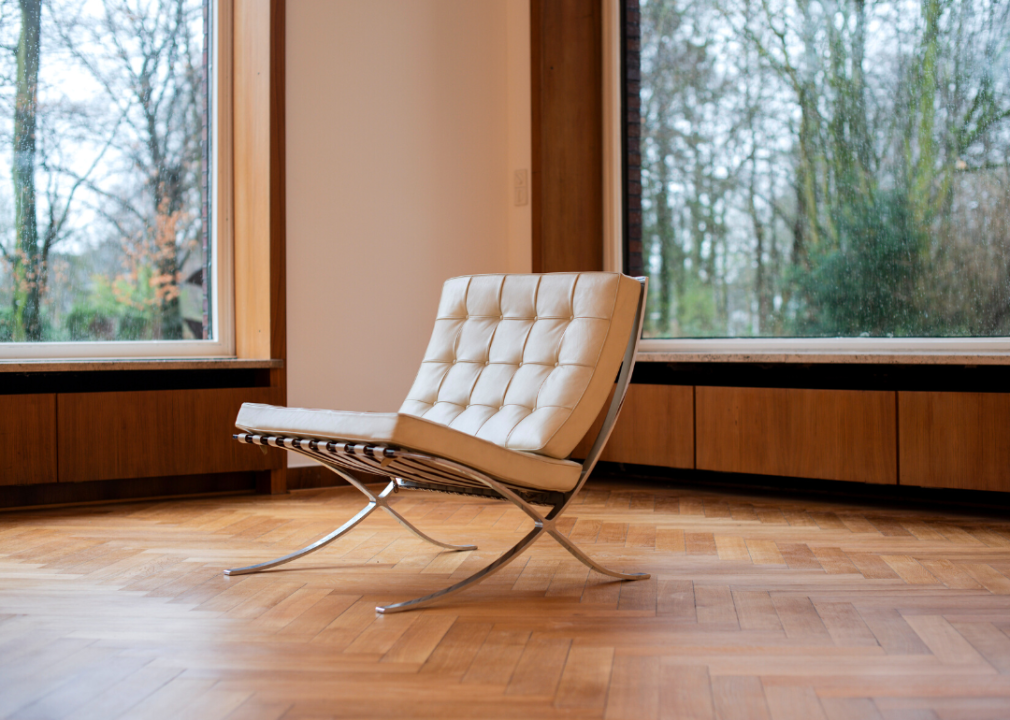 Jana Bauch/picture alliance via Getty Images
In 1929, German American designer and architect Ludwig Mies van der Rohe was commissioned to design the German national pavilion for the upcoming International Exposition in Barcelona. Because the king of Spain was set to preside over the event, the designer later recalled that he needed to create an "important chair" fit "to receive a king."
To construct what became known as the Barcelona chair, Van der Rohe mixed newer materials, such as a chrome-plated frame, with more traditional, functional ones, like its quilted cowhide leather cushions. Although the chair only sat in the pavilion for seven months, it's become a key piece in the midcentury modern movement. Knoll currently produces the chair, which starts at about $8,000.
Louis Poulsen's Paris lamps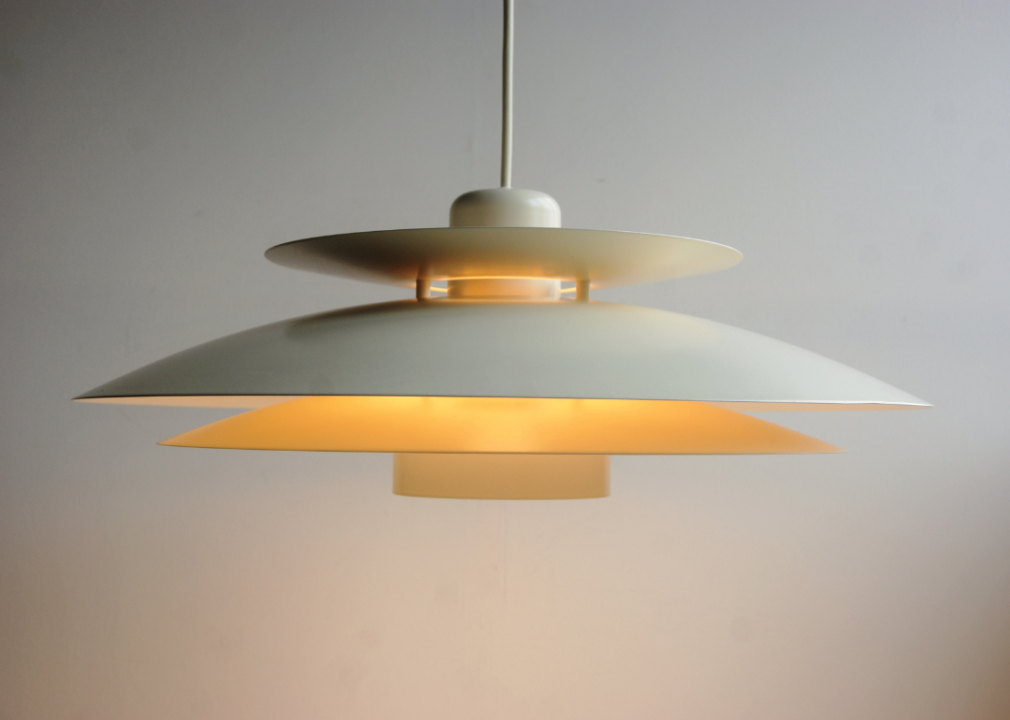 ancient-image // Shutterstock
The midcentury modern design movement is largely associated with the U.S., but the influence of Danish modernists cannot be understated. One of these key Danish figures was designer Poul Henningsen, who created a series of innovative pendant lamps for Danish manufacturer Louis Poulsen. In 1924, Henningsen—who deplored the harsh glare of newly invented electric lighting—collaborated with Poulsen on a piece for a Parisian art exhibition.
The resulting lamp, dubbed the Paris lamp, used three round shades layered on each other to produce softer, more natural lighting. This pendant lamp, which won the gold medal at the exhibition, laid the groundwork for future designs, simply known as PH pendants. The lamps' gentle, evenly distributed light and sculptural shades showcase Henningsen's artful balance between form and function.
The Eames lounge chairs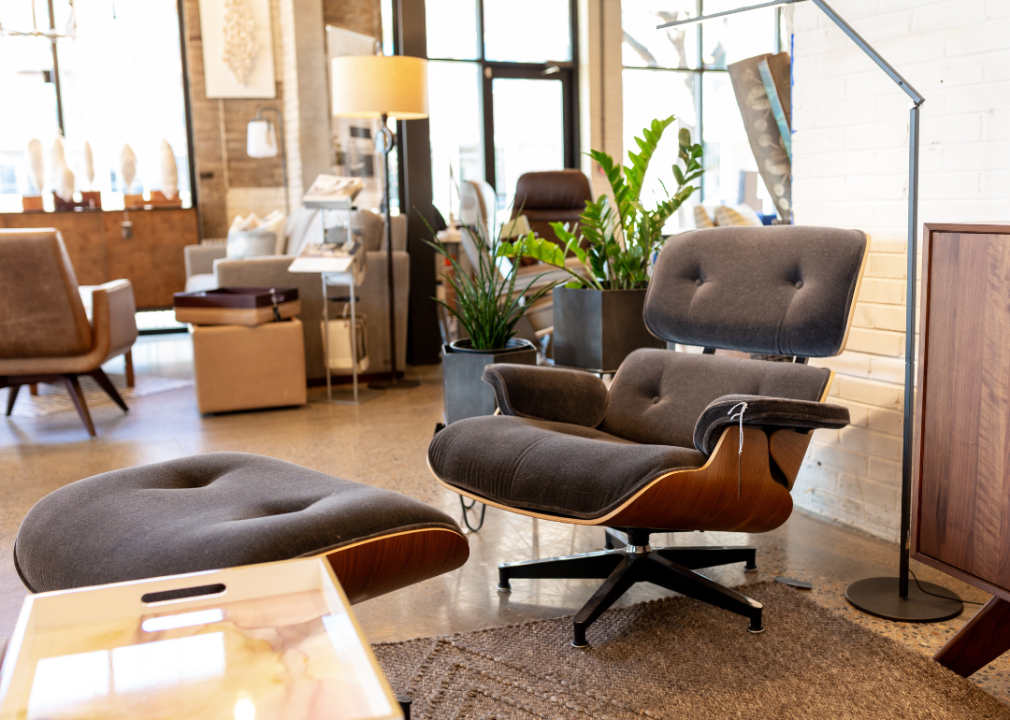 Karen Culp // Shutterstock
Husband-and-wife American design duo Charles and Ray Eames drew inspiration from an unlikely source to design the famous Eames lounge chair: a used first baseman's mitt, whose shape influenced the chair's ability to completely envelope whoever sits on it. The couple used cutting-edge molded plywood construction for the chair's base, as well as more traditional plush leather seating for a refined sensibility. The piece, manufactured by Herman Miller, has been in constant production since it was introduced in 1956, making it a staple for generations of design lovers who can cover its $8,000 price tag.
Danish teak sideboards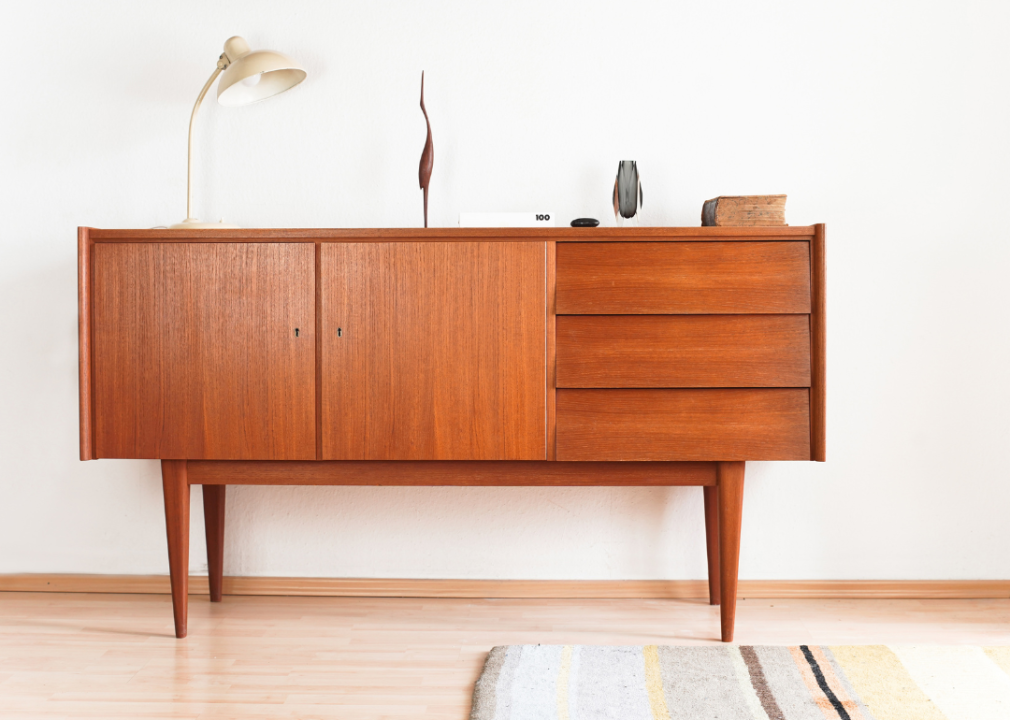 Dreamprint // Shutterstock
Richly colored, durable teak is synonymous with midcentury modern furniture. It's also another example of the design style drawing inspiration from Scandinavian aesthetics of the time, which heavily incorporated wood elements not just in flooring but also in ceilings, walls, and furniture pieces. One of the most popular examples of this trend is Danish teak sideboards: wooden-framed cabinets whose long and low stature allows them to easily fit into spaces of any size. The smooth lines and simple appearance are also characteristic of midcentury modern design.
Arne Jacobsen's Egg chairs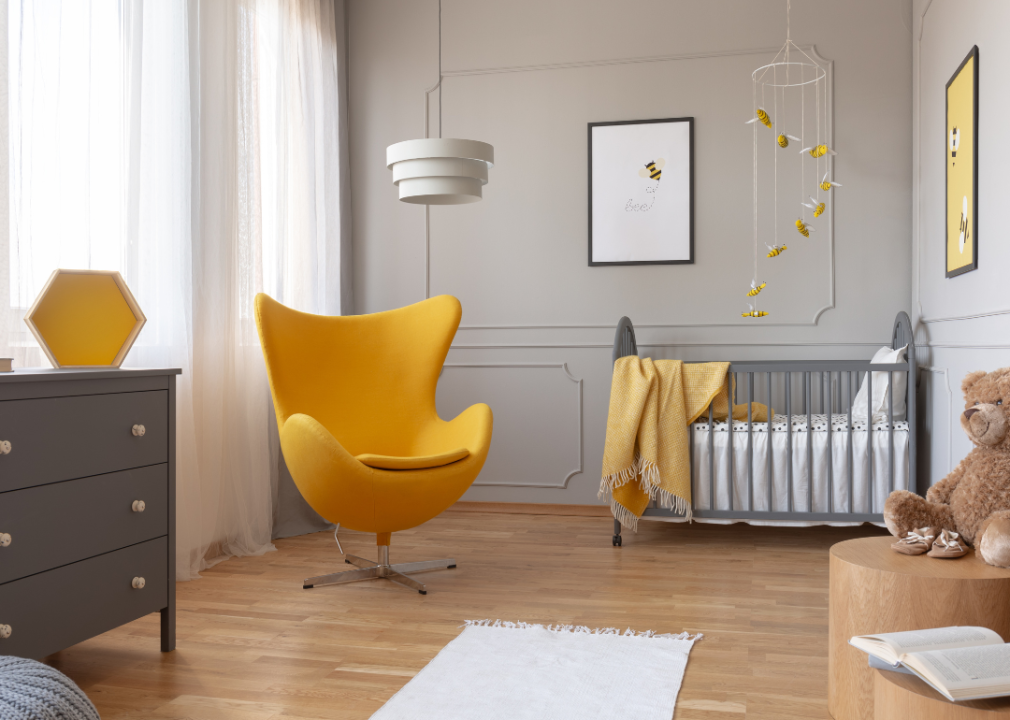 Ground Picture // Shutterstock
While many of his peers were busy trying to incorporate industrial materials into their designs, Danish architect and designer Arne Jacobsen was more interested in reimagining the upholstered armchair for the current era. The result: the Egg chair, whose shape Jacobsen devised while "experimenting with wire and plaster in his garage."
Although many midcentury modern furniture staples feature more geometric shapes with steel and wooden frames, the Egg chair's smooth and rounded appearance is shaped from a molded piece of foam beneath the upholstery. It was ultimately finished in 1958 as part of a commission for Denmark's SAS Royal Hotel. Original Danish manufacturer Fritz Hansen still produces the chairs, which start at $9,200.
Nelson bubble lamps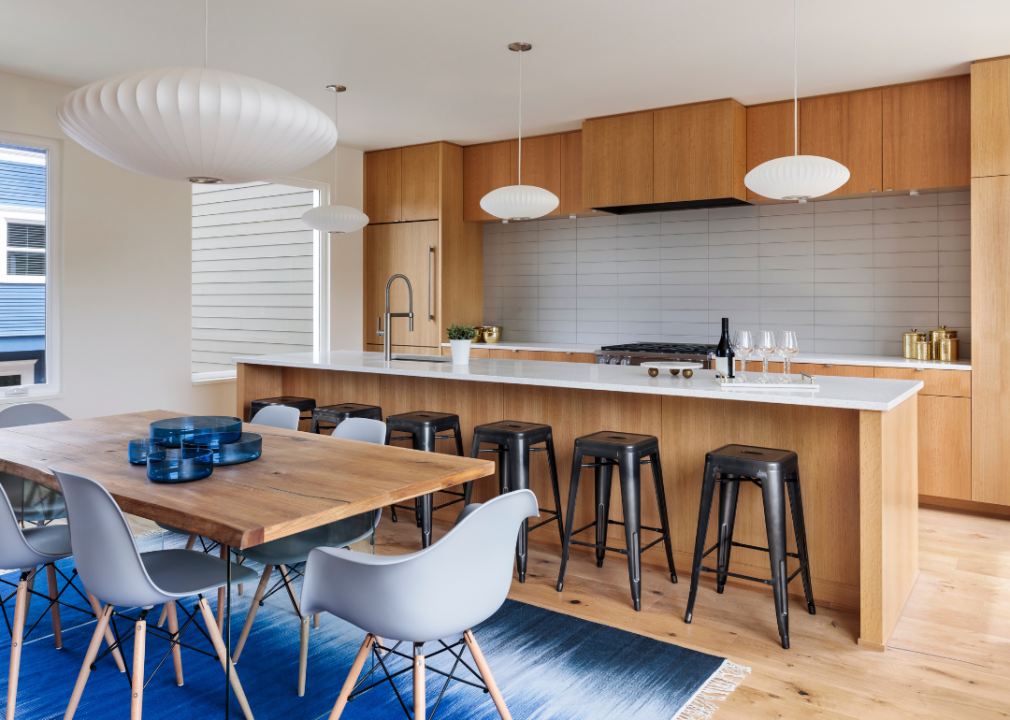 David Papazian // Shutterstock
American designer George Nelson was initially inspired to create his signature bubble lamps in 1952 after becoming enamored with a set of prohibitively expensive silk-covered Swedish hanging lamps. He ultimately created his own version of the design, taking cues from organic shapes like pears, lotuses, and apples. Nelson made his bubble lamps by covering steel wires with a translucent white plastic spray commonly used by the U.S. military in the mid-20th century. The bubble lamps were discontinued in 1979 but saw a revival in the late 1990s when midcentury modern design entered the zeitgeist once again.
Upholstered Danish teak armchairs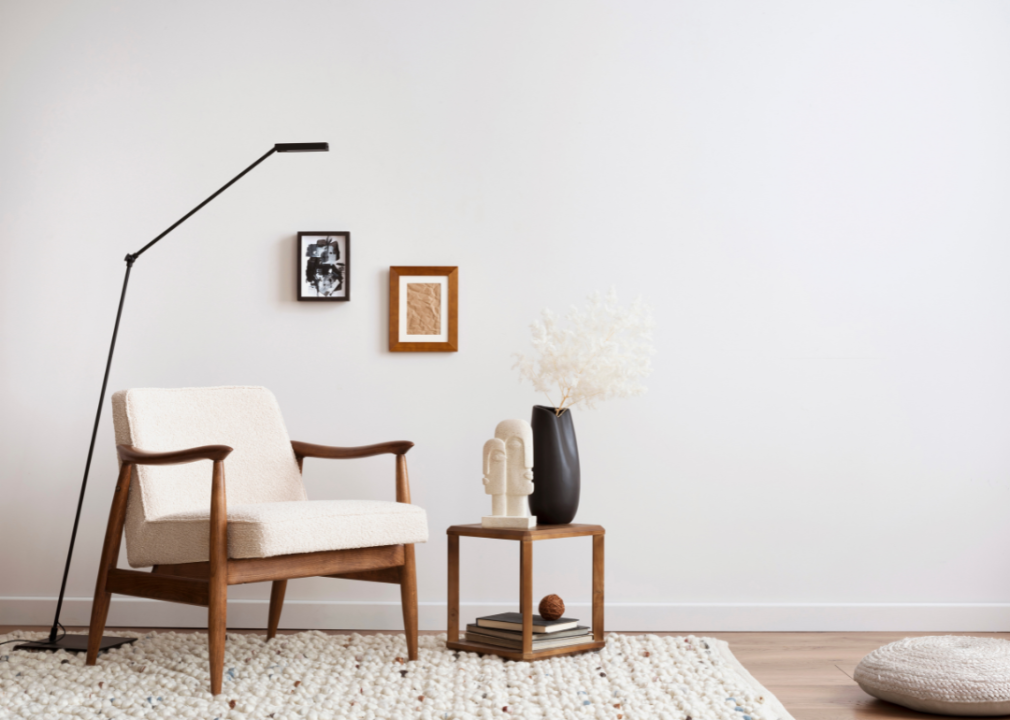 Followtheflow // Shutterstock
Many midcentury modern designers worked with teak furnishings, but American designer Milo Baughman's designs were some of the most recognizable of the era. He found success putting his own spin on popular Danish modern furniture styles, including upholstered Danish teak chairs. While Baughman's chairs were simple and functional, he gave them a subtle flair by adding elements like tufted upholstery. In 1953, Baughman collaborated with North Carolina manufacturer Thayer Coggin, which still produces his chairs and other furniture pieces.
Panton chairs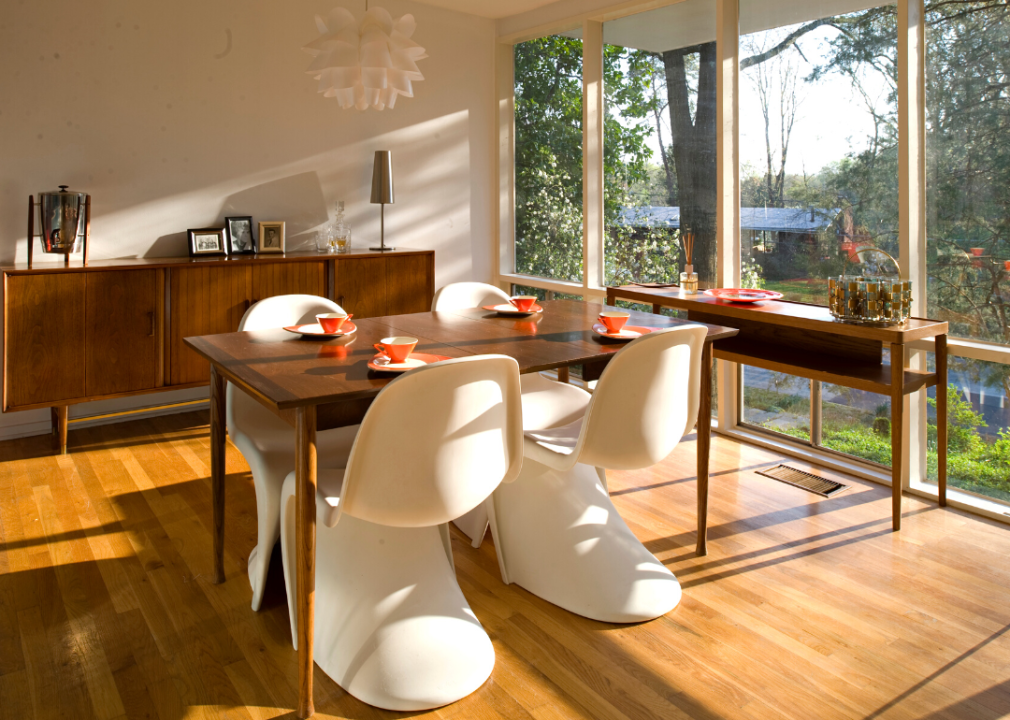 John McDonnell/The Washington Post via Getty Images
Danish designer Verner Panton's stacking chair is one of the most notable examples of post-World War II technology impacting design aesthetics. Panton invented the iconic chairs in the late 1950s, and they became the first single-material and single-form chair ever made. Because they were built from one piece of durable polypropylene, they were easy and affordable to make in the postwar mass-production era, costing consumers only $75 each when Vitra started producing them in 1967. (Now, they run for $500 apiece.) The chairs were also flexible in terms of a homeowner's color palettes, as the plastic could be dyed nearly any shade.
Arco floor lamps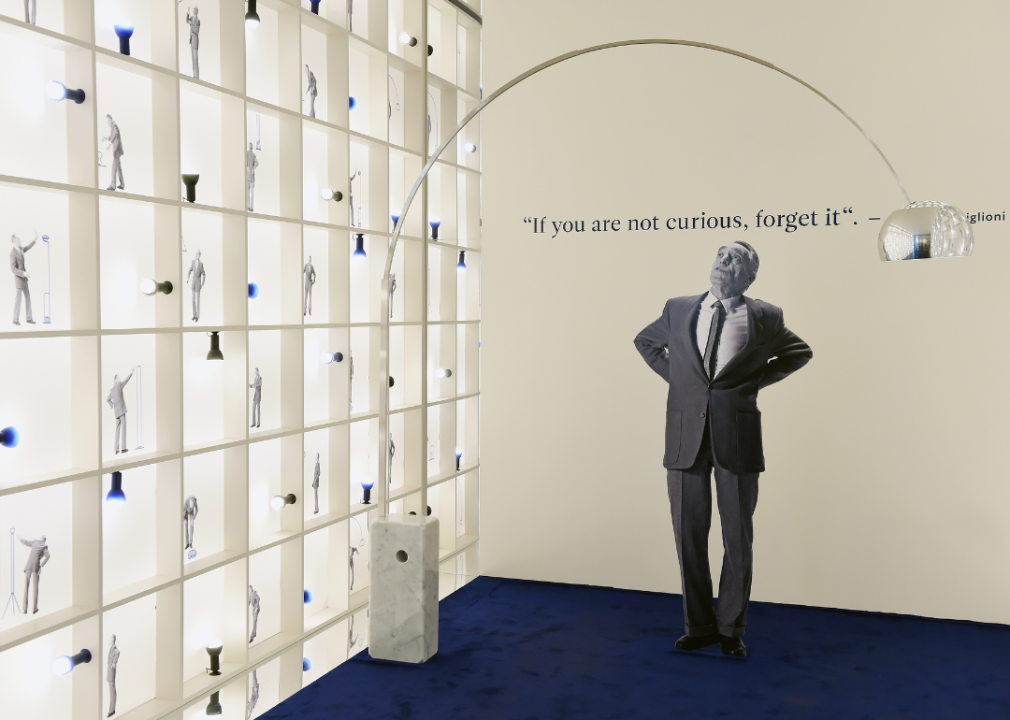 Stefania M. D'Alessandro // Getty Images
Italian brothers and design duo Achille and Pier Giacomo Castiglioni's iconic Arco floor lamp was inspired by streetlights. The floor lamps feature marble bases and chic aluminum shades that don't require ceiling suspension or installation, making them ideal for renters and homeowners looking for more flexibility. Their swiveling, nearly 7-foot arms also allow users to more easily control the flow of light in their homes.
Although Arco floor lamps first hit the market in 1962, they became famous years later when they appeared in iconic films like 1969's "The Italian Job" and the 1971 James Bond film "Diamonds Are Forever." Manufacturer Flos has been producing them consistently for the last six decades, selling them for just under $4,000 today.
Eero Saarinen's Womb chairs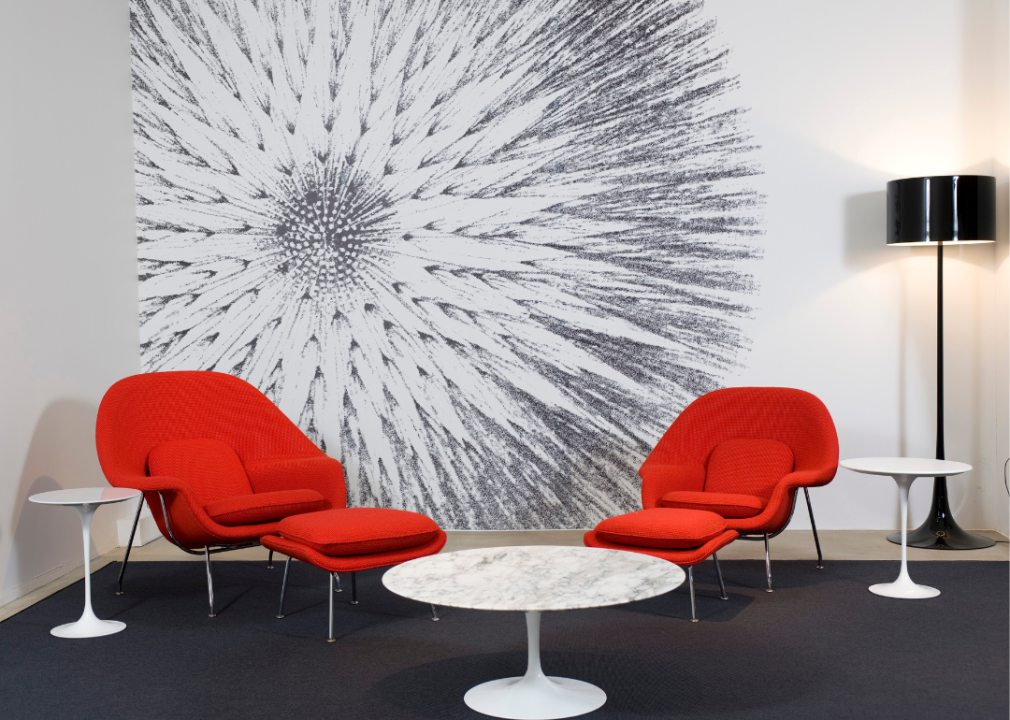 View Pictures/Universal Images Group via Getty Images
After Finnish American designer Eero Saarinen and his peer Charles Eames won the Museum of Modern Art's Organic Design competition in 1941 for their Organic chair, Saarinen was inspired to continue experimenting with creating a chair that relied on its shell rather than cushioning to provide comfort.
In 1946, American architect Florence Knoll challenged Saarinen to create "a chair that was like a basket full of pillows." To bring the chair to life, Saarinen and Knoll sought the help of a New Jersey boatbuilder familiar with using resin and fiberglass. The result: a chair made of foam and molded over a fiberglass shell, creating an enveloping, womblike effect.
Story editing by Jaimie Etkin and Carren Jao. Copy editing by Paris Close.
This story originally appeared on Singulart and was produced and distributed in partnership with Stacker Studio.