The child had been found by a employee of Coca Cola who stated he noticed the child inside a shopping cart with nobody around and nobody coming to check on child. After interviews with employees, surveillance video obtained , and identifying documents found in cart the child's mother was able to be identified. Ofc. Cole and CPD Sgt. Jr. Murphy located mother in Greensburg.
Sheriff's Dept. Deputy Justin Cross traveled to location of mother in Green County and brought her back to Adair County. Ofc. Cole charged 26 year old Adrianne Nicole Faulkner with Abandonment of a Minor, Endangering the Welfare of a Minor, Wanton Endangerment 2nd degree, Public Intoxication, and 2 counts of Theft By Unlawful Taking/ Shoplifting.
Faulkner stated to officers that when she got back to Green County she realized she had left her infant child but made no attempt to come back and pick her up. Sgt. Murphy transported the child to the Department of Community Based Services Protection and Permanency Division where Social Workers took protective custody of the child and will ensure a safe placement for the infant. CPD Ofc. Jamie Cole is continuing the investigation.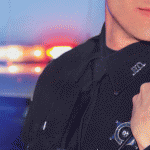 A Greensburg woman has been arrested after abandoned 8 month old female child was located at local business in the limits of Columbia. Columbia Police Department responded to Wal-Mart after receiving a call from Adair County Dispatch of child being left at store. Upon arrival Ofc. Jamie Cole was led to a infant child being attended to by Wal-Mart employees.