Strong support for Judy Vance in Adair County put her over the top and beyond in the race for 29th Judicial District Circuit Judge Tuesday. Vance took home more than 64 percent of the votes in Adair County to make up for a loss in Casey.
Vance received 4,457 votes in Adair and 2200 votes in Casey for a total of 6,657.
Her opponent, Brian Wright, received 2,425 in Adair and 3,378 in Casey, for a total of 5,803, falling 854 short of the win.
SCHOOL BOARD
In local school board races, two write-in candidates were unsuccessful but one incumbent was defeated.
Quinn Lasley defeated incumbent Marsha Walker for the 2nd District school board seat. Lasley received 565 votes to Walker's 392. Charles Miller received 95 votes.
Incumbent Mike Harris received strong support in the 5th District, taking more than 70 percent of the vote. Harris received 935 votes to write-in candidate Bill Steele's 389 votes.
Incumbent Floyd Burton received 696 votes and write-in candidate Rhonda Cox received 489 votes in the 4th Educational District.
CITY COUNCIL
Charles Grimsley was the top vote getter for six city council seats. Grimsley recieved 774 votes. Incumbent Craig Dean received 742, incumbent Robert Flowers received 725, and Ronald P. "Butch" Rogers received 717. Incumbent Linda Waggener received 669 and incumbent June Parson received 627.
Candidates who didn't earn a spot on the council were incumbents Tony Grider, who received 593 votes, and Jim Hadley, with 536 votes; Craig Lasley, with 609 votes, and Joe Moore, with 427 votes.
You will find complete election coverage in Thursday's edition of the Community Voice.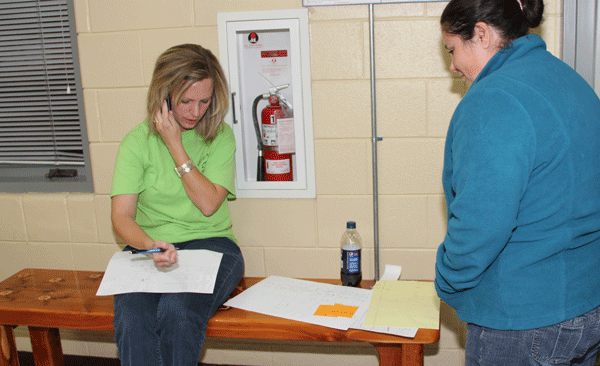 Judy Vance gets numbers from Casey County while waiting for returns to come in at the Adair County Courthouse Annex Tuesday evening.