COLUMBIA, Ky. -- Lindsey Wilson College graduated the largest winter class in the college's 110-year history Saturday morning. A total of 418 degrees were awarded at the college's 98th ceremony, held before a crowd of more than 2,000 guests in Biggers Sports Center.
In his commencement address, the Rev. Todd Love of Columbia told the graduates that they were about to begin a different kind of "hero's journey."
"We're taught that the hero's journey is the journey from weakness to strength … but the real hero's journey is the journey from strength to weakness," said Love, who is superintendent of the Columbia District of The United Methodist Church Kentucky Annual Conference.
Love told the class -- which included 219 undergraduate degrees and 199 graduate degrees -- that they are "about to be a rookie again," which means they will have learn the important life role of how to be a "nobody."
"For in learning how to be a nobody, you will learn how not to be a jerk," said Love, who is also an ex officio member of the Lindsey Wilson Board of Trustees. "For the rest of your life … you will learn to be kinder and more thoughtful. You will tip well. You will empathize. You will be a mentor, and a generous one."
Love told the graduates to become lifelong students by building on their college educations.
"Education is not really about grades and getting a job," he said. "It's primarily about becoming a more aware and engaged observer of the universe. If that ends with college … you're wasting your one and only chance at real consciousness."
Love also urged graduates to "concentrate on growing in compassion."
"Choose the possibility that the lives and experiences of other people you encounter are as complex and unpredictable as your own. That other people are not simply one thing or another … but their life, like yours, contains a multitude of layers," he said. "And by reading other people in that context, we learn to be more compassionate to each other. … The gift and the challenge of your education is to see others as they see themselves -- to grapple with this mean and crazy and beautiful world in all of its baffling complication."
Love also received an honorary doctorate from the college. Also receiving an honorary doctorate was Lindsey Wilson trustee and Greensburg, Ky., businessman Lenn R. Pruitt.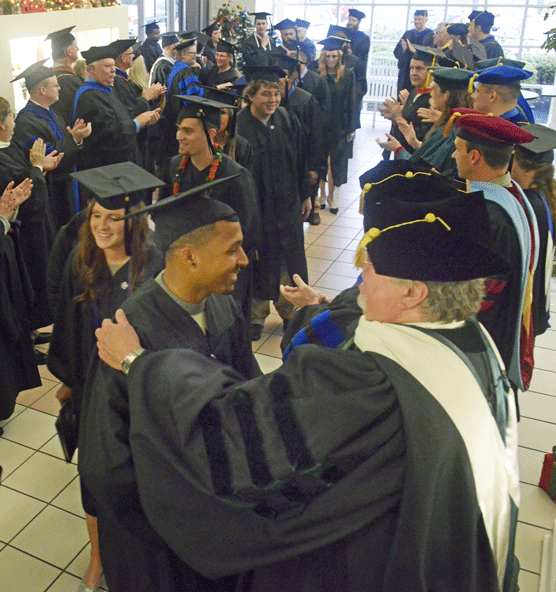 Kalen Kimberland of Columbia is congratulated by Lindsey Wilson College Associate Professor of Communication Dan Koger while walking through the "Academic Gauntlet" Saturday morning in Roberta D. Cranmer Dining & Conference Center. Kimberland received a bachelor of arts degree in communication.[/caption]