The Lindsey Wilson baseball team will once again make adjustments to their spring schedule due to rainy weather and projected forecasts.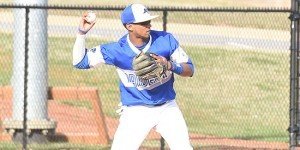 The doubleheader against Brescia originally scheduled for 2 p.m. CT today at Egnew Park will now be played at Schadler Field on the campus of Brescia in Owensboro, Ky. First pitch is set for 2:30 p.m. CT.
Following a seven-game winning streak during late March, the Blue Raiders (25-16) have dropped five-of-eight recently, including a series loss at Cumberland (Tenn.) over the weekend.
Despite its struggles of late, Lindsey Wilson still received votes in the NAIA Baseball Coaches' Top 25 Poll released on Tuesday.
Aaron Ashton is batting .324 with 10 doubles, two triples, six home runs and 40 RBIs. Brandon Munoz has succeeded on 19-of-20 stolen-base tries and ranks second on the team in both base hits (53) and runs scored (41).
For the Blue Raider pitching rotation, Scott Sebald is averaging over a strikeout per inning. He has pitched 55-2/3 innings and struck out 61 batters. James Roll leads Lindsey Wilson with five saves.
The Bearcats (12-29) enter on a five-game losing skid, including a four-game sweep at 21st-ranked Point Park (Pa.) this past weekend.
Brescia's lineup features a pair of .300-plus hitters in Justin Cessna and Christian McHatton. Cessna comes into the day with a .328 batting average and 15 extra-base hits, while McHatton has six homers and 36 RBIs. He has also stolen nine bases in as many attempts.
Right-hander pitcher Kegan Graves holds a 3.34 earned run average in nine appearances, including five starts.
The Blue Raiders and Bearcats have already met three times this spring with Lindsey Wilson taking all three games. The Blue Raiders have outscored Brescia 43-10 in those games.
Live stats are available for today's doubleheader.
The action is set for a 2:30 p.m. CT start.