COLUMBIA, Ky. -- Scott Dillery's interest in white-water canoeing recently led to a national achievement.
Dillery -- a Campbellsville, Ky., resident who is a Lindsey Wilson College associate professor of mathematics -- won a national championship at the White Water Open Canoe Downriver Nationals, held in June on the Nantahala River in near Wesser, N.C.
Dillery and and his partner, Zaak Havens of Michigan, completed an eight-mile course on the Nantahala River in just under 56 minutes to become national champions in the men's 18-39 OC-2 F16 class. Although Dillery is 51 years old, the duo competed in the 18-39 age group because Havens is 24.
Havens and Dillery also competed in the sprint course, covering it 7:30.9 for the silver, 6.9 seconds behind the first-place team; and Dillery competed individually at the event, earning a fifth-place finish in the sprint and a fourth-place finish in the long course.
It was the fifth time Dillery has competed in the national event, and this year was his best showing.
"It's just a lot of fun," Dillery said. "I like the people involved with the event. They are really fun people to be with."
When Dillery first competed in the national event in the late-1990s, "I didn't do very well, but I had a really good time."
Dillery said that one of the appeals of competing in a canoe race on a white-water river is the thrill the sport gives participants.
"It's one of those things that, while you are doing it, it gets your adrenalin going because of the excitement," he said. "But at the same time, you know that if you follow all of the safety rules, it's a pretty safe sport."
Dillery equates riding a river's white-water rapids to "like getting on a roller coaster."
"You know you're going to be OK, but the whole time you're heading down that first hill it does feel a little risky," he said.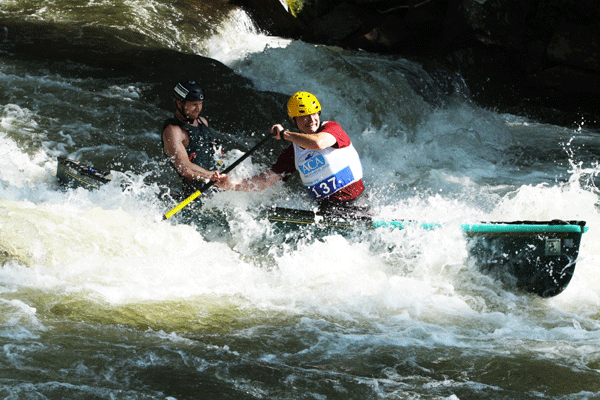 Lindsey Wilson College Associate Professor of Mathematics Scott Dillery, right, and teammate Zaak Havens head into the stretch of the men's 18-39 OC-2 F16 class of the 2012 White Water Open Canoe Downriver Nationals, held in June on the Nantahala River in near Wesser, N.C.[/caption]